The old saying states it is better to give than to receive, yet Garth Brooks accomplished both when he announced his benefit concert aptly named "Nashville 10  The Rescue Party" for Nashville flood relief. His giving started when the nine sold out shows garnered more than five million dollars in concert tickets and merchandise sales alone,
with 100% of the proceeds going to the Community Foundation of Tennessee for Flood Relief. The donations brought much needed financial assistance to those who still struggle to rebuild homes and lives after the devastation of the May floods. The generosity and giving spirit encompassed not only the star of the show and his talented guests, Trisha Yearwood and Steve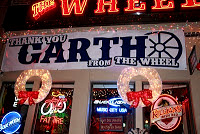 hotels and volunteers who all donated their equipment, time and talents. Due to the generosity of so many, lower Broadway businesses directly affected by the flood were "flooded" with business during the weeklong concert series, resulting in sales reports well above average and generating much needed revenue. One fan from Dallas said "Having spent my time in Nashville as a "tourist" I felt energy in the town that I didn't expect.  I spent an afternoon walking downtown, stopping in many shops along the way.  It seemed to me that the town was abuzz and the native
Nashvillian's were genuinely grateful for the influx of folks brought to town by this monumental event. I had a mental image and expectation that there would be an element of depression in the area, but it's clear that Nashville is resilient and focused on coming back better than before." Many business fronts decorated their windows and hung banners thanking Garth for his support and boosting the economy. During the final show, Mayor Karl Dean took the stage to present Garth and Trisha with a framed commemorative thank you poster for the efforts and assistance to the city. In addition to concert donations, Mayor
Dean reported an estimated $15 million dollars was brought to the city in hotel revenue alone.  
Wariner, but also included the entire production crew, countless individuals and too many businesses to mention; from catering and merchandise to
Opening the early show every evening for the duration of the concerts, and also contributing backup vocals was Wilmington, NC native Karyn Rochelle, currently a Nashville songwriter with hit singles such as "I Wonder", "Red High Heels", and "Don't You Know You're Beautiful" for Kellie Pickler, and also "Georgia Rain" and "This Is Me You're Talking To" for Trisha Yearwood. The tone of gift giving co

ntinued as concert attendees received a copy of Karyn's new EP which was given out after each show as a thank you for the support to the cause.
A highlight of the event and continuation of the "giving" came for Ms. Yearwood during the Friday night performance. According to her Facebook status post she wrote "
Last night. Nashville. Marines on stage with me singing "How Do I Live"...it does NOT get any better than this!" The Marines were part of many who were on hand for the "Toys For Tots" collection which was
stationed in front of the Bridgestone Arena for all nine of the concerts.  Another big moment during the week came when NFL Alum Ray Carolin delivered over 14,000 toys which arrived by semi-trailer trucks accompanied by Santa Claus on Sunday afternoon. "The opportunity to help Garth in his efforts to help our buddies in the U.S. Marine Corp. and their Toys for Tots program is an honor." said Carolin. The toys were donated by a number of children's to
y and sporting goods companies, and Spalding Sporting Goods.
The first three performances were filmed those serving in the Military; those giving up so much and making the ultimate sacrifice for the United States. On December 25th and again on December 26th, the AFN (Armed Forces Network) aired the concert for the troops as a great big thank you and Christmas gift. Each night during the nine shows, Ms. Yearwood announced the taping and the audience response was deafening, with repeated chants of USA echoing throughout the arena. "What an amazing gift for our troops over seas to have an opportunity to see the show broadcast.  Couple this with the entire "gig" being about charity and it gives an entirely different perspective on what is driving Garth and Trisha.  So much of what they are involved in now revolves around charity.  They are giving more than the gift of music." a concert attendee who traveled to Nashville from Dallas shared with me.
Each night the performance seemed to get better and better, and those who attended all nine of the shows attested that Garth still has it; he has not forgotten how to entertain and make every person in an arena holding 17,000 people feel like they are the only person in the room and each show special. Garth alluded many nights that some of those in attendance were not even born when he started his career, but looking around the crowd, one could see fans of all ages filling the arena and most everyone knew every song he sang. Seventy-three year old "Ms Nita" said she "had never seen anything like the Garth show…she stood with her eyes wide and enjoyed the music. It was something she would never forget, something she would remember forever!!  And what a wonderful young man he was."  A fan from New York told me "The love that pours out from his audience to him and from him to them is
quite magical. When he connects with an audience member and you witness it, you can't help but be almost as happy as the person is... and the reaction from the lucky ones is nearly always identical... a look of shock, and then turning to the person next to them and high-fiving them... it's so much fun to watch!"
Remember in the beginning I mentioned that it is better to give than receive? Well, Garth also received much love, respect and gratitude from the fans that have waited all these years for him to perform on stage again. A favorite part of the show for everyone is the encore, or as Garth likes to call it, "housekeeping." Fans never know what songs he will do and what signs he will honor. It is usually him and his guitar as he sings songs requested off the many bright colored poster board signs seen throughout the arena.  Many of them requested older album cuts and when he performed them he was always in awe of the fact the audience would sing them right back to him as loud as if they were his biggest hits.... and he was humbled by that every time. He said "singing every word back to me is the best gift I could ask for."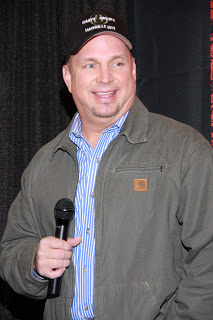 During the press conference held before the show on Thursday, Garth affirmed the end of the Rescue Party is not the end for his live shows. Garth's scaled-down, acoustic performances in Las Vegas will continue, and Trisha has already given him a go-ahead to hit the road again once his daughters are no longer living at home.
"With Miss Yearwood's blessing, once the children get off to school and we feel like we can kind of be our own people, I've asked her blessing to fire this tour back up for one more run," he said with his charming smile. "I would love to go from city to city, and I'd love to do it at a price that is reflective of what I feel should be out there that I'm not seeing. No offense to anybody, but people need a break, and they need to have fun, and so she has said yes." Fans can expect him to hit the stage close to 2014.

The definition of BELIEVE is to have confidence or faith in the truth of (a positive assertion, story, etc.); give credence to and with the Christmas following just days after the final encore you can say there is no such thing as Santa, but after witnessing all the miracles and generosity that emerged from these performances, I BELIEVE!