Jerrod Niemann
was presented with a plaque for the RIAA Platinum certification of his chart-topping hit "Drink To That All Night." He received the plaque backstage at his first headlining show at Nashville's Ryman Auditorium.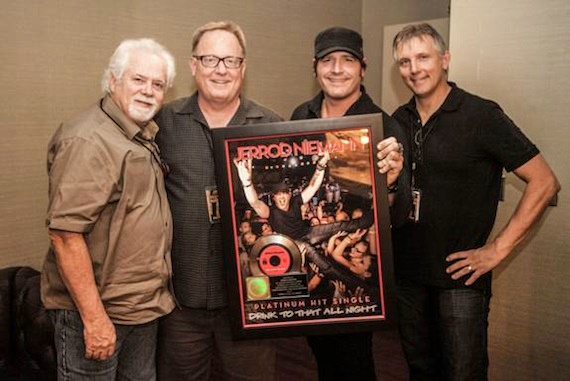 Pictured (L-R): Bill Simmons (Fitzgerald Hartley), Gary Overton (Sony Music Nashville), Jerrod Niemann, Steve Emley (Fitzgerald Hartley). Photo: Ivor Karabatkovic
• • •
SESAC
recently hosted a gathering of industry executives to celebrate the release of
The King of Broken Hearts
, a documentary of the life and career of singer-songwriter
Jim Lauderdale
. The feature was produced and directed by
Jeremy Dylan
.
The King of Broken Hearts
, which was released Sept. 15, is available at
jimlauderdale.com
.
Pictured (L-R): Producer/director Jeremy Dylan, Lauderdale and SESAC's Tim Fink. Photo: Bev Moser
• • •
ASCAP
singer-songwriter
Hannah Dasher
recently hosted a performance at historic RCA Studio B. The invitation-only event was attended by label execs, Grand Ole Opry's
Pete Fisher
and other industry members. The performance included a short set by Dasher, followed by an after-party in the BMG Chrysalis parking lot.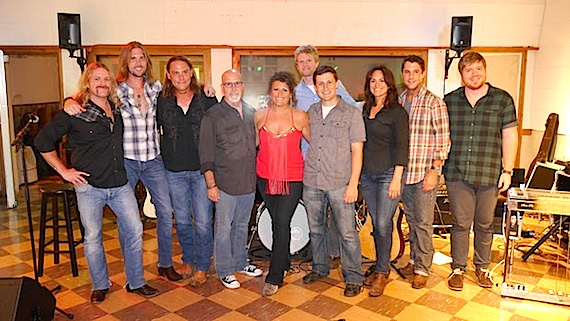 Pictured (L-R): Terry Lee Palmer (Guitar); Lee Francis (Bass); Howie Adams (Drums); producer Jeff Stevens; Hannah Dasher; Kos Weaver, Executive Vice President, BMG Chrysalis; Daniel Lee, Senior Creative Director, BMG Chrysalis; LeAnn Phelan, Co-head of Nashville Membership, ASCAP; Michael Martin, Co-head of Nashville Membership, ASCAP; Eddy Dunlap (Steel)