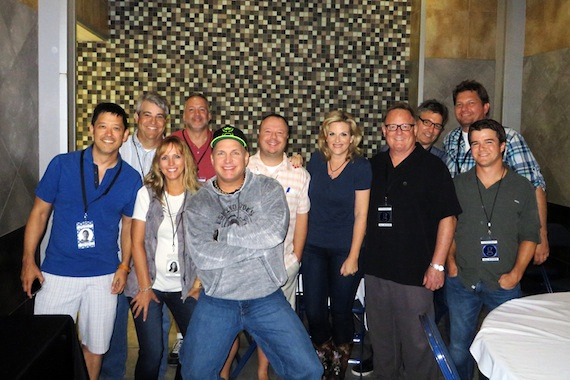 Pictured (L-R): The RCA Nashville promo team's Larry Santiago, David Berry, Elizabeth Sledge, and Keith Gale; Brooks; RCA's Josh Easler; Yearwood; Overton; and RCA's Dan Nelson, Matt Galvin, and Parker Fowler. Photo courtesy of RCA Nashville.
Garth Brooks
launched a triumphant musical comeback during the first show of his world tour last night (Sept. 4). Brooks performed to a packed house of nearly 20,000 fans at Rosemont, Ill.'s Allstate Arena (near Chicago). He offered a mix that relied heavily on his lengthy list of signature '90s hits including "The Dance," "Friends In Low Places," "The River," "Ain't Going Down 'Til The Sun Comes Up," "Calling Baton Rouge," as well as a few newer songs, including "Man Against Machine," and his current single, "People Loving People."
Also on the bill was Brooks' wife and superb vocalist
Trisha Yearwood
, who emerged halfway through the show for a duet of "In Another's Eyes," followed by "XXXs and OOOs (An American Girl)," "How Do I Live," "Wrong Side of Memphis," and her latest single, "PrizeFighter."
Singer-songwriter
Karyn Rochelle
opened the show. Rochelle penned songs including
Kellie Pickler
's "I Wonder," "Don't You Know You're Beautiful," "Red High Heels" and Yearwood's "Georgia Rain" (from 2005′s
Jasper County
), as well as "Let The Wind Chase You," "This Is Me You're Talking To," and "Cowboys Are My Weakness," (all from 2007′s
Heaven, Heartache and the Power of Love
). Rochelle's self-titled album released Sept. 2 on iTunes.
All photos courtesy of Bev Moser/Moments By Moser.